Falls are particularly prevalent among the elderly, and are detrimental as they often lead to immobility, difficulty performing daily activities and even take a toll on both mental and emotional health. With access to the right information and by installing the appropriate fall- proof products at home, falls can be prevented.
Tip #1: Creating an elder-friendly home
Two areas where falls commonly occur are in the bathroom and the bedroom. As bathrooms tend to become slippery, it is important to install anti-slip products such as grab bars and bathmats. With grab bars, elderly persons can move around the toilet area with ease as they have something to hold onto for support. It is recommended that grab bars are installed beside the toilet bowl to provide support in sitting and standing.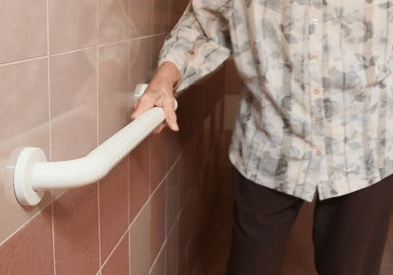 Grab bars should also be installed in the shower area to provide a sturdy support for standing. For those with less mobility, shower chairs reduce the risk of falling as the user can sit safely during their showers. When used together, these products can provide a safe bathing experience for the elderly.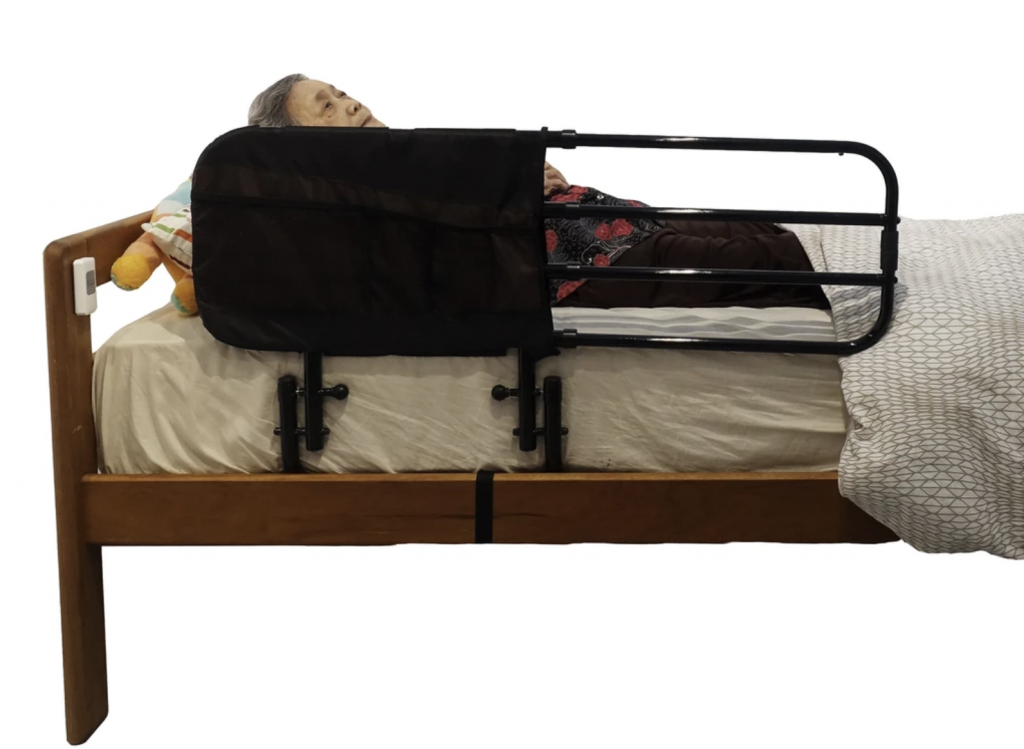 Falls can also occur in the bedroom during their sleep or when they have difficulty getting out of bed. Bed rails provide support for getting in and out of bed, and some come with other features, such as being length-adjustable or portable. For the elderly who are prone to falling from bed, installing length-adjustable bed rails would likely protect them from danger. On the other hand, users who are more mobile may prefer a portable bed rail to provide support for sitting and standing.
Besides fall-proof products, you can also consider these tips to prevent falls or to minimize the impact of falls at home
– Remove items that can possibly obstruct the area and lead to falls, such as stacks of newspapers, tangled wires and loose carpets
– Ensure a clutter-free surrounding by keeping items inside storage boxes or compartments
– If it is dim in certain areas of the house, install lamps or motion sensor lights in those areas to improve visibility
– Place corner protectors around sharp edges of furniture to reduce risk of injuries and place furniture pads on those that moves or slides about easily
Tip #2: Get them a suitable mobility aid if they need one
Falls can also be prevented with the right mobility aid, if they require one. While it is important to encourage the elderly to continue walking, it is hard to ignore the fact that at one point, they will have difficulties in walking and need to rely on a mobility aid. There are different types of walking aids and each is designed to cater to users with different mobility issues. To maximize their mobility and to encourage them not to stay idle and be active at all times, caregivers can assess the mobility level of the elderly. This can guide the caregiver in knowing the right kind of mobility aid that the elderly should use.
1. Canes
If they are able to walk and only face slight difficulties, they can use a walking cane to assist them. They are suitable for those who are physically independent. These walking canes can be adjusted according to the user's height. It also comes with different variations such as foldable walking canes and seat canes.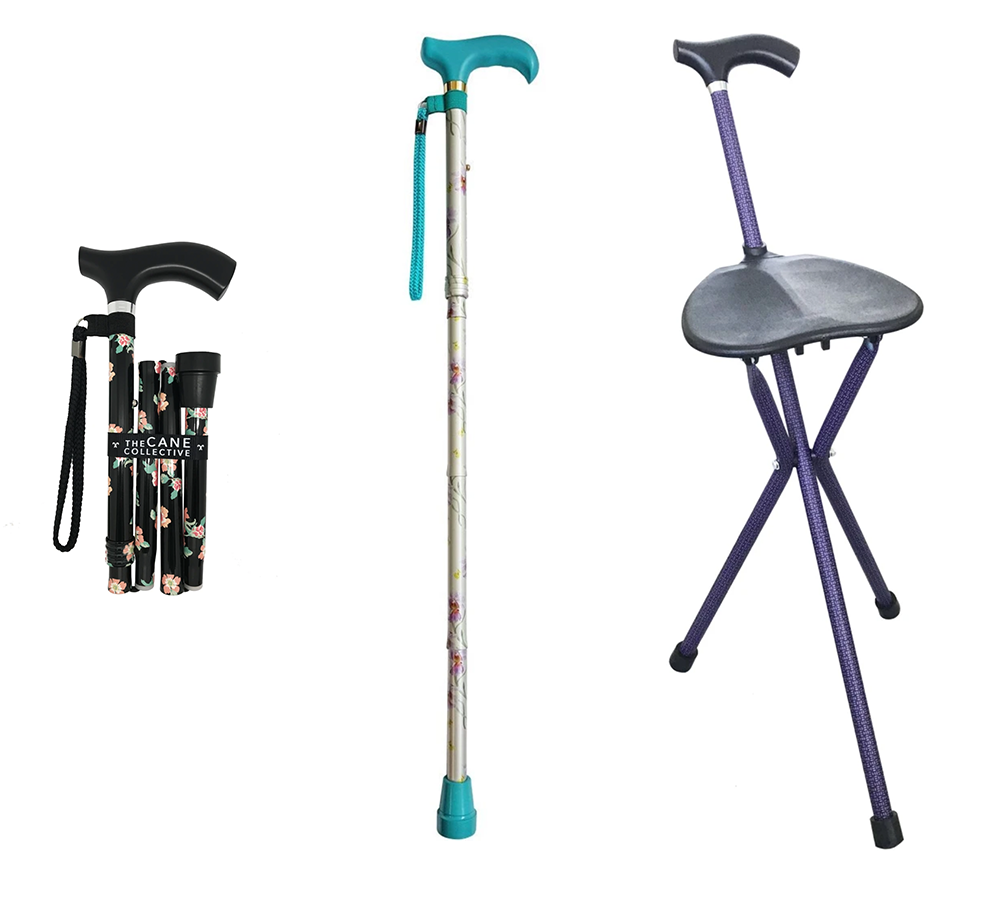 Some of the elderly might be reluctant to use canes because it signifies a change in their mobility level, and it might make them feel embarrassed or scared to use one. It might take a little bit of work to convince the elderly to use one but not to worry as there are walking canes with colourful designs for them to choose from. These stylish canes cane make the ageing process less dull and it's a great way for the elderly to start using one if they are required to.
2. Walkers or rollators
If the elderly need 2-handed support, they can opt for walkers or rollators. What are walkers and rollators? They are similar to walking frames except that no lifting is required. Walkers come with 2 front wheels and 2 rear gliders, so all the user has to do is to push the walker instead of lifting it up every time they take a step. It will be less tiring, and it also helps to promote proper posture for walking.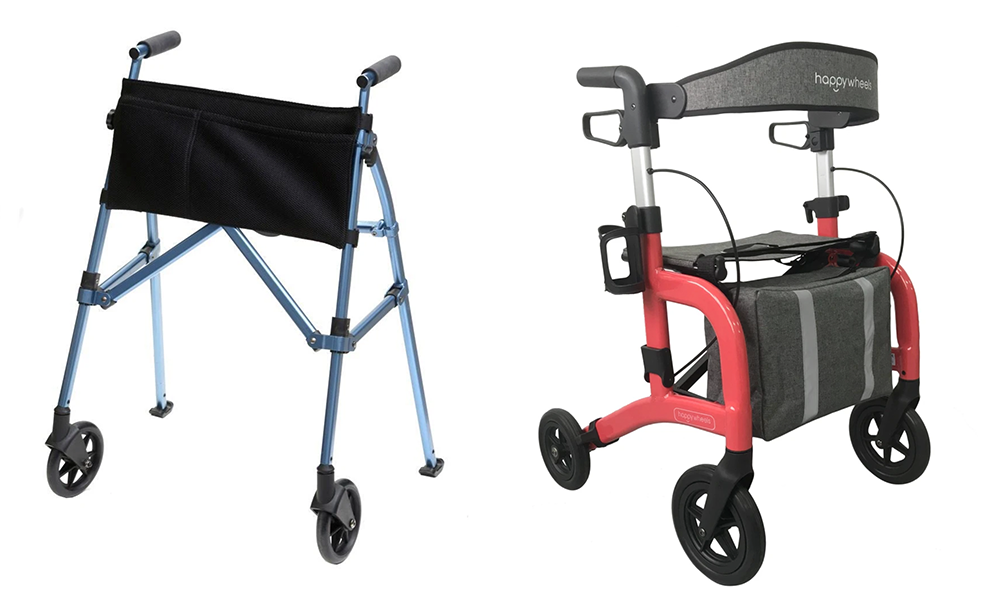 For elderly who are more mobile and prefer more flexibility in their movements, they can opt for a rollator that has 4 wheels. It also comes with a seat and a brake which is convenient for the elderly to take a break during long walks.
3. Wheelchair or pushchairs
For the elderly who are unable to walk or are completely dependent on other people or devices for assistance, they can consider a wheelchair or pushchair. What is the difference between wheelchairs and pushchairs? Pushchairs, just like its name suggests, require a caregiver to push the user. It comes with smaller wheels and are thus much lighter and less bulky than wheelchairs. Wheelchairs, on the other hand, have larger wheels and allow users to self-propel.
Below you will find our 'Mobility Spectrum', an infographic crafted by The Golden Concepts to guide users and caregivers in finding out which mobility aids will best suit their needs: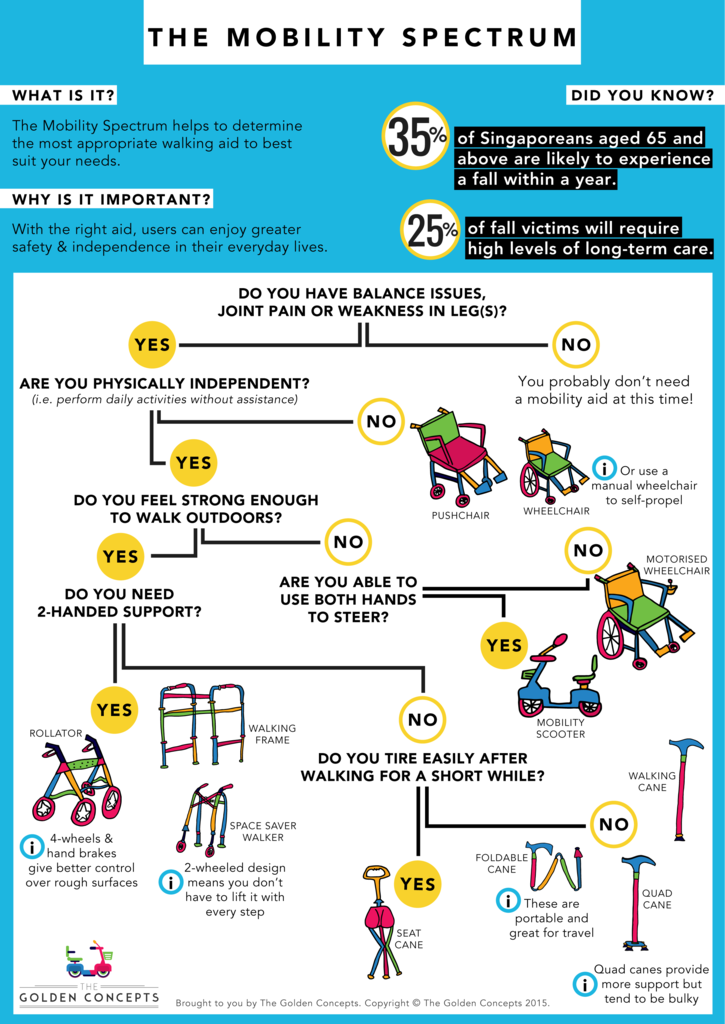 Tip #3: Handy, portable products for outdoor use
If you have a family car and often bring your elderly loved ones out, have you noticed them struggling to get out of the car? If so, you might be interested in getting a swivel cushion or a car handle to assist them in getting out of the car. The swivel cushion can help with turning their body and they can grab onto the car handle for support in standing up.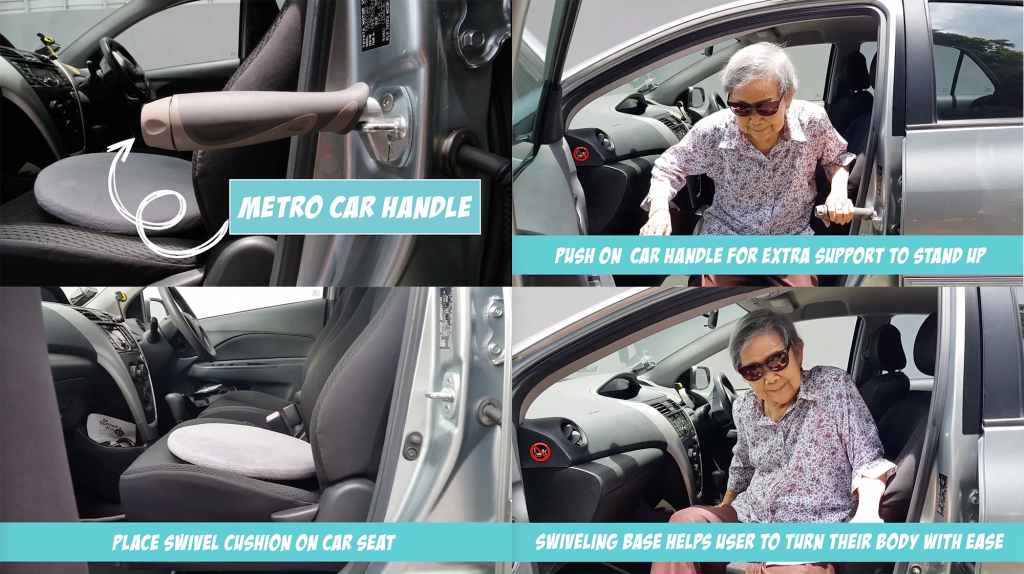 If you are planning an upcoming travel trip, keep in mind that your elderly loved ones may not be able to walk for long distances and will most likely require some breaks in between. You can consider getting a travel pushchair which has a more compact size compared to regular pushchairs. It can fit into a duffel bag (included) which you can bring around for your trips. This will allow you to pack it easily into the car boot, alongside your luggage and the entire family can enjoy the trip together.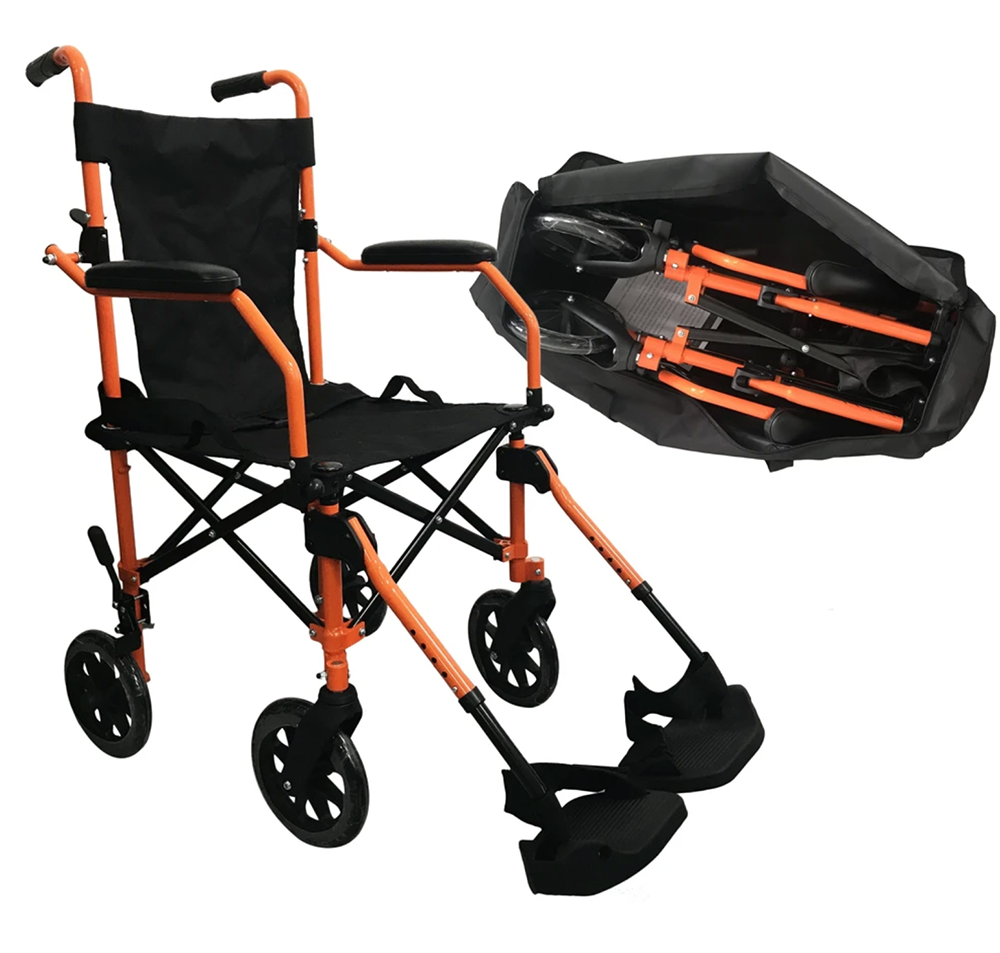 These innovative products can be useful for the elderly and it might come handy at times. We might overlook some of the difficulties that the elderly are facing and render them trivial.
However, it might be really helpful when you least thought it would be, especially when it can go a long way in preventing falls.
Most important tip: Prevention is key!
"I'm buying this for a family member who recently fell at the toilet. He had a stroke, so he was already having difficulty with his mobility. We are worried for him as he lives alone but wants to live independently. So, we thought of getting these products to make his home safer for him," shared a customer of The Golden Concepts. He started to pay more attention when a family member fell ill and a had a fall incident which triggered him to purchase fall-prevention products. Most of the time, caregivers often look for solutions after an elderly family member experienced a fall incident or is about to be discharged from the hospital.
If you have a family member living alone or with you, take some simple steps to improve their safety, especially if they are already experiencing mobility issues or are at risk of falling. At The Golden Concepts, we aim to educate and encourage adoption of this preventive approach to allow our loved ones to continue to be fully engaged in their communities and enjoy a high quality of life.
About The Golden Concepts
The Golden Concepts is an e-commerce store that curates eldercare products to enable ageing well. Besides eldercare products, they also focus on creating content aimed towards maximizing the mobility and independence of our seniors. For more information, drop an email to contact@thegoldenconcepts.com or Call/ WhatsApp +65-8657-1657.