Technology has advanced a lot in the last few years and it has made life more comfortable for everyone including old people. Old people might not be as tech savvy as the younger generation however they can take a lot of benefits from the advancement in technology.
Video Calling
We are literally living in the future. A few decades ago people thought of video phones as something that will only be available to us far away in the future. Video calling is an amazing tool that lets you connect face to face with other people in your life. Old people can use this app to get in touch with their children and other family members.
Quite easily the pioneer of video calling services. When Skype was introduced it became so popular that people used to say 'lets Skype' instead of lets video call. It is a free app however some aspect of the app may cost you money. The app is updated on a regular basis to add features that match the current world and trends.
When WhatsApp was introduced in 2009 it did not have the feature of video calling however with time the app has been updated to match the trends in the current market. It is a very good video calling app and offers amazing quality for its calls. It is a very handy app for older people as unlike Skype they don't have to log in every time they want to talk to their kids. If they have their kid's number they can just call him through WhatsApp. Other than the video aspect, it is somewhat similar to traditional voice calling as it uses the person's number for registration. You can just search the number in contact and call the person. This relevance makes it an easy app for older people to use.
Voice Messaging
Kids all over the world used to play games like cops and robbers. All the cops pretended they were talking on walkie talkies. Well voice messages are somewhat similar to walkie talkies. Unlike walkie talkies, voice messages don't work in real time. You can just press the microphone button and speak and then send the audio to the other person. The other person can listen to it whenever they are available.
Whatsapp lets you send voice messages to other people. It is a very convenient app for older people. It is easy to use as you only have to press a single button and speak and once you are done speaking you can let go of the button. Older people can't always write texts on their phones like younger people so voice messaging is one of the most convenient alternatives for them.
WeChat is another popular app for voice messaging. WeChat is one of the most popular communication apps in China. Like WhatsApp, you can also press the microphone button and send a voice note to your children and other loved ones. As discussed earlier that older people might have difficulty in writing so voice messaging can be a great alternative.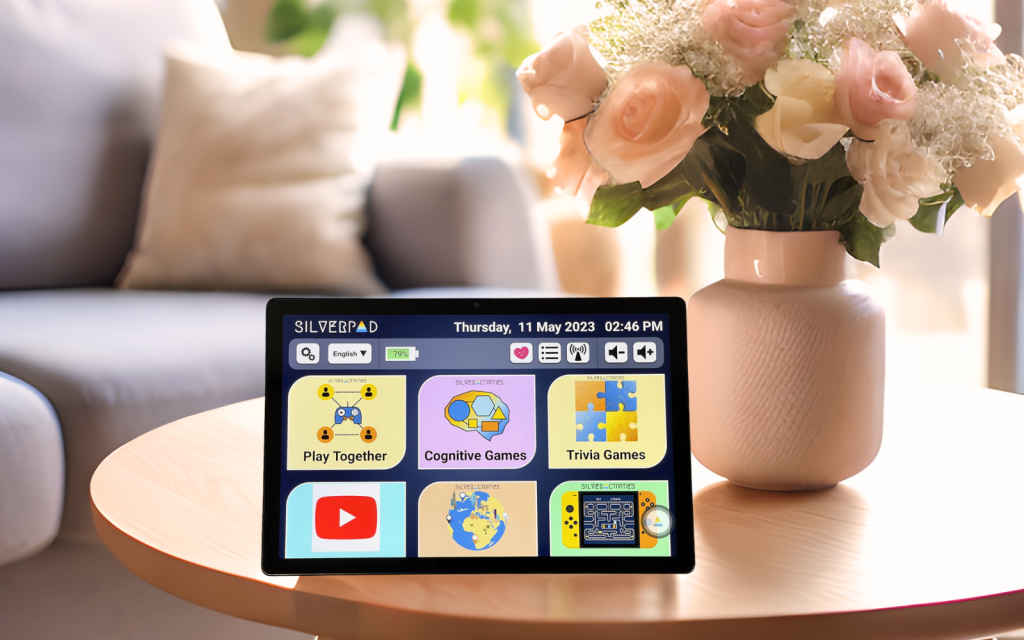 SilverPad is a senior-friendly tablet designed to empower older individuals in the digital age. With multilingual support, its user-friendly interface features big icons and text for easy navigation to serve as a gentle introduction for seniors who may be apprehensive about using technology. Used by numerous senior care organizations, SilverPad offers an array of cognitive games and activities that not only entertain but also stimulate the mind.