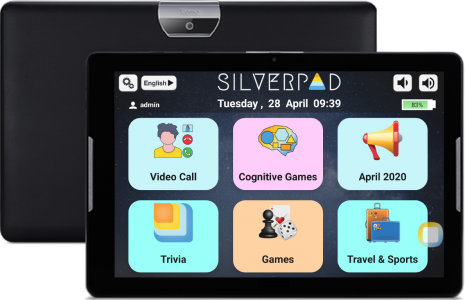 July 31, 2020
Success Story: Find Out Why Angelina Bought SilverPad For Her Mother
"I was looking for a software that was more portable and easily accessible. Something more friendly. Something even my mom could learn to use on her own. I further explored the SilverActivities website and found the SilverPad, the ultimate tablet solution which I was looking for – portability + accessibility + versatility + manageability."

Angelina Yap
Early on in April, I was scouting high and low for a good app or software that focused on cognitive mind games for the elderly. The primary motivation stemmed from finding a suitable online cognitive activity for my mother who is recovering from a stroke. I needed a digital activity that would supplement those already provided by her occupational therapists at St. Luke's Elderly Care which I thought was good but not quite enough.
After browsing through a few websites, one, in particular, caught my attention – www.silveractivities.com (hereafter "SA"). The initial impression I got was 'Wow, this is so friendly even Mom, who is completely computer illiterate, would take to this'. This was just the beginning of an eye-opening journey with SA. The next step was to understand how the activities worked, so I downloaded a few printable exercises – Silversheets e.g. money math/matching, maze, Chinese word search etc. which both Mom and I thoroughly enjoyed.
As enjoyable as the printable activities were, my mind wandered beyond the online downloadable activities to something more manageable over the long-term. I was looking for a software that was more portable and easily accessible. Something more friendly. Something even my mom could learn to use on her own. I further explored the SA website and found the Silver Pad (hereafter "SP"), the ultimate tablet solution which I was looking for – portability + accessibility + versatility + manageability. I almost yelped 'Eureka' at this point. I immediately contacted the SA team while I was still in quarantine after having just arrived from England end of March and spoke to Nilofer, one of the founders of SA. Nilofer was fantastic and immediately offered to set up a virtual demo. I was practically sold by the end of demo session. I knew then that SP would be perfect for my mother!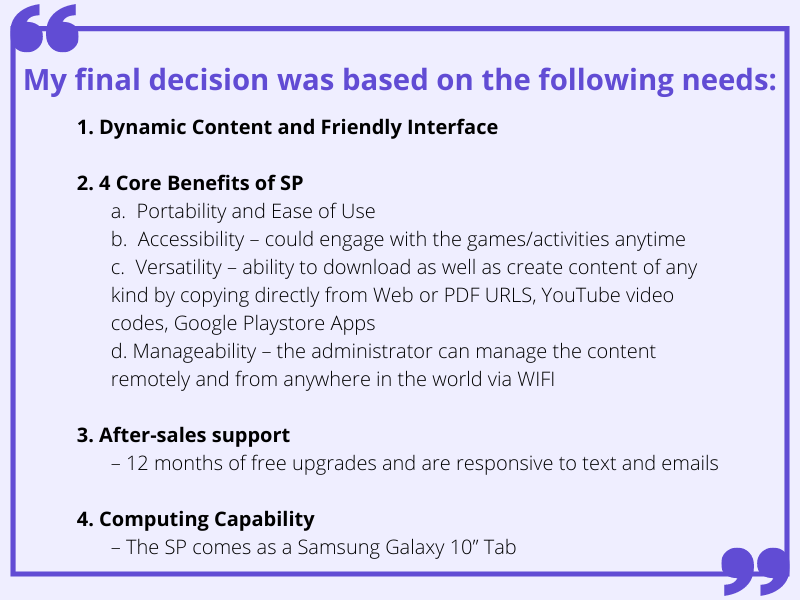 Any new user, including me, would be hard pressed to say there is only one feature that we liked. In fact, there are several and I shall highlight the obvious ones: in addition to the brain and cognitive activities, SilverPad is multi-lingual – It is available in four languages – English, Mandarin, Malay, Tamil. Although I've been told by the SA team that they can adapt language use based on the market in which it is distributed. E.g. Cantonese for Hong Kong.
I would recommend the SP to anyone who is looking for a solution to providing meaningful and fun activities that supplements the user's existing OT programme. To those respective senior family members and friends who are looking for something more than just 'app' games that are more static.
The design of the SA desktop – the ease and friendliness of navigating with big colourful icons with adorable cartoon images are eye-catching for any novice user. There is such a wealth of activities and games in various modes that are installed on the SA Tab that it would be a challenge to perform these on one's 5"-6" screen mobile as the full capability of the activities would not be as appreciated, and unless one is using a tripod, it is just not as effective a learning experience.
A senior user would most certainly have a far more enjoyable experience navigating and will better realise the full potential of the activities with a 10" or larger screen. The layout and design are more suited to be used on the larger screen. The desktop design is simple, visually appealing, and virtually self-explanatory. Video Call capability is also available for those who wish to communicate with their friends and family. All it takes is for the recipient to install SilverPad Biz+ from Google Playstore for Android users and Voila! You place a video call to anyone, anywhere in the world. Brilliant!
For the administrator, the ability to create content at any time, and even remotely, is a huge selling feature for me. I travel frequently, and it is important for me to keep the content up to date as and when it's convenient or I could delegate this task to a friend or relative. Brilliant again!
Conclusion
In conclusion, I am blown away by SP. What a God-send it has been for my mother, and the family, and I feel blessed that our mother has found something meaningful and mentally stimulating to play with that will supplement her regular therapy sessions. This, I have no doubt, will add immeasurable value to her recovery.
Kudos to the fabulous SA Team for this wonderful product.