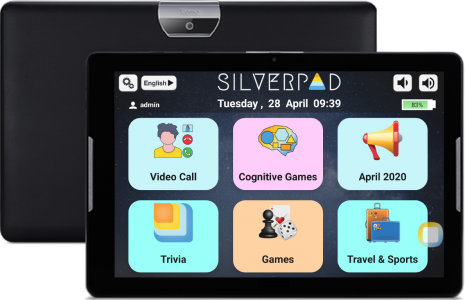 July 31, 2020
Success Story: Find Out Why Angelina Bought SilverPad For Her Mother
I was looking for a software (or App) that was both portable and easily accessible, and something friendly, even my mother could learn to use on her own, with minimal hassle…I was soon convinced that the SilverPad is exactly the digital-tablet solution that had all the features I sought – portability, accessibility, versatility and manageability.

Angelina Yap
Early on in April, I was scouting high and low for a good interactive app or software that focused on cognitive games for the elderly.  The primary motivation stemmed from finding an online cognitive activity for my mother who is recovering from a stroke.  I needed a digital platform that is home-based and that would also supplement the activities already provided by her occupational therapists ("OT") at her rehab centre which, although good, wasn't quite enough.
After browsing through a few websites, one, in particular, caught my attention – www.silveractivities.com ("SA").   The initial impression I got was 'Wow, this is so friendly even Mom (who is completely computer illiterate) would like this'.   This was just the beginning of my journey with SA.  The next step was to understand more about the product, so, for a start, I downloaded a few printable exercises such as Silversheets – which included money math and matching, maze, Chinese word search – all of which Mom and I thoroughly enjoyed solving together.
As enjoyable as the printable activities were, I was still not satisfied. I wanted something more self-driven and independently manageable over the longer-term.  I was looking for a software (or App) that was both portable and easily accessible, and something friendly, even my mother could learn to use on her own, with minimal hassle.  I felt it was important for her to gradually restore her confidence and independence post-hospitalisation.  Upon deeper research, I was soon convinced that the SilverPad is exactly the digital-tablet solution that had all the features I sought – portability, accessibility, versatility and manageability.  I literally yelped 'Eureka'! and immediately reached out to the SA team on the phone while I was still in quarantine after having just arrived from London, and spoke with Nilofer, one of the principal founders of SA.  Nilofer was super engaging and helpful, and immediately offered to set up a virtual demo of SilverPad via Zoom.  I was practically blown away by the end of the one-hour session, and was totally convinced that SilverPad was the solution for Mom!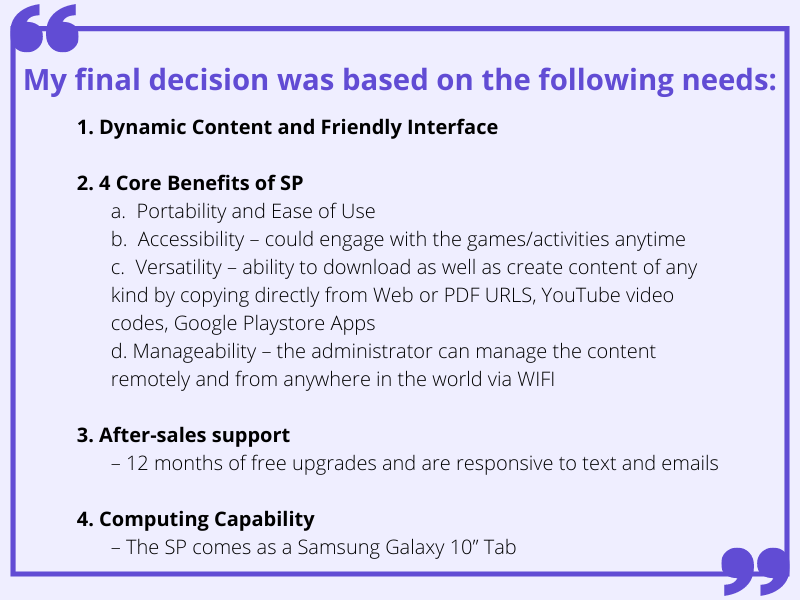 1. Dynamic Content and Friendly Interface
Which feature(s) did I like best? Tough question, as there were so many!
Well, here are the key highlights:  in addition to the core brain and cognitive activities, SilverPad is also multi-lingual – i.e. there are four languages to choose from – English, Mandarin, Malay, Tamil.  Hooray for those who are multi-lingual, and hooray even for those who aren't because it meets both users' needs.
a) Dynamic Content – I would thus recommend the SilverPad to anyone who is looking for a solution to providing meaningful, fun and intellectually challenging activities that supplements the user's existing OT programme. 
i. Performance and Engagement Metrics – For those who are more technical and performance oriented, and wish to monitor the user's progress over time, the SA interface offers a "performance and engagement metrics".  This serves as a useful baseline metrics especially useful for feedback to the elderly user's medical consultant.
ii. The SilverPad Administrator, Managing Existing and Creating New Content Remotely – For the SilverPad administrator like myself, the ability to create and add new content at any time, including third party apps, and remotely, is just icing on the cake and a huge selling feature for me.  I travel frequently, and it is important for me to keep the SilverPad's content up to date as and when I please.  Alternatively, I could delegate this task to someone else (nice!). Again, kudos to the SA team for its laser point attention to details.
b) Friendly Interface – The design of the SA desktop – the ease and friendliness of navigating with big colourful icons and large, adorable cartoon images that are eye-catching for any novice user.  The SilverPad's interface is designed to be simple, visually appealing, virtually self-explanatory and easy to navigate.
c) Video Call capability – This may not mean much to most given the plethora of choices one is faced with, but this feature impressed me because it made the product complete without involving too much tech.  This feature connects all the parties at once. All it takes is for the call recipient to install SilverPad Biz+ from Google Playstore (for Android users) or App Store (for iPhone users) and Voila! You have the SilverPad Biz+ at your fingertips, literally, to call your Mom/Dad, Grans anytime, anywhere in the world (via Wi-Fi).  Brilliant!
2. The 4 Core Benefits of SilverPad
a) Portability – The 10" Screen is Ideal! Any user, irrespective of age, would appreciate navigating a 10" or larger screen, in particular for this generation of users, without having to schlepp a heavy hardware around (the Samsung Galaxy Tab A tablet weighs less than 500g). 
b) Accessibility – could engage with the games/activities at anytime in the comfort of your own home
c) Versatility – ability to download as well as create content of any kind simply by copying directly from Web or PDF URLS, YouTube video codes, Google Playstore Apps and adding onto the SilverPad's content folder.
d) Manageability – the SilverPad enables the administrator to manage the content remotely and from anywhere in the world
3. After-sales support
12 months of free upgrades and fantastic technical support that promptly troubleshoots and resolves technical issues.
4. Computing Capability
My SilverPad comes as a 10" Samsung Galaxy Tab A tablet with plenty of storage capacity and computing power for third party cogniti­ve Apps (see 1a. above)
Conclusion
In conclusion, I am blown away by the simplicity and power of SilverPad.  What a God-send it has been for my mother, and the family, and I feel blessed that she has found a tool that is meaningful and mentally stimulating that will no doubt add immeasurable value to her overall wellbeing and recovery. 
What else can I say, but congratulations and kudos to the entire fabulous Silver Activities team for their unwavering commitment to creating a product that has a lot of heart and power, and most of all, that will make a difference to someone's life at a time when it matters most.