Whether it's the pandemic or during regular times, teaching your elderly parents to video call can help them to connect with you and get on the family video conference. It's a fulfilling experience that fills you with pride both for your parents and for you. However, it requires time, patience, and persistence. Here's how you can teach your elderly parent to do a video call on different platforms:
Zoom
It's best to streamline most of the process for your elderly parents so that they can join a video call with a single click. Fortunately, Zoom is user-friendly enough to allow that. To make the process easy for your elderly parents, download the Zoom app on their device and Sign up a new account. After that, sign in with that username and password and tick the box that says "Stay signed in" under the big blue button.
After you have set up the account and have tested that your elderly parents don't need to sign in every time they open the app, teach them how to open their email and click on a zoom invitation link. The next time you send them an invitation link they can join the meeting with a click.
Be patient and teach them about elementary things like using the mute button and joining with or without video. Teach them to end a meeting by clicking on the big red button. The process is similar on the smartphone and you can set up the app on their phone as well so that they can join you on a video call even when they aren't in front of the computer.
If your parents want to talk to you or your kids on a video call, they just need to call you on your smartphone and you can host a meeting and email them the link to keep it simple.
FaceTime
Set up the FaceTime app on your parent's Mac or iPad or iPhone and teach them how to bring out the Contacts list and FaceTime someone by tapping or clicking on the icon that looks like a video camera. Teach them to wait for someone to pick up the FaceTime call as well and make them hit the big End button to end the call. Practice face timing with your parents a few times so that they get comfortable with the process.
Moreover, make sure to turn off auto-updates so that your parents don't get confused with unnecessary reminders. Drag the FaceTime icon to the top left corner on the main screen so that they can easily find it. You can also add restrictions to Volume on the Settings app so that they don't change the volume accidentally during the video call.
WhatsApp
Install WhatsApp on your parent's phone from the App Store or Play Store and grant the necessary permissions that are asked. Set up the WhatsApp account with their phone number and add their name and picture. Show them how to find someone from their contact list and start a video call by hitting the icon that looks like a video camera on the top-right corner.
You can put similar volume restrictions and drag the app on the top left corner of their home screen so that they can easily find it.
Remember to be patient and answer all their questions in a simple way so that they can easily video call with you or any other family member. Video calls are a great way for your elderly parents to interact with you and your kids and they shouldn't be deprived of this just because they are generation older.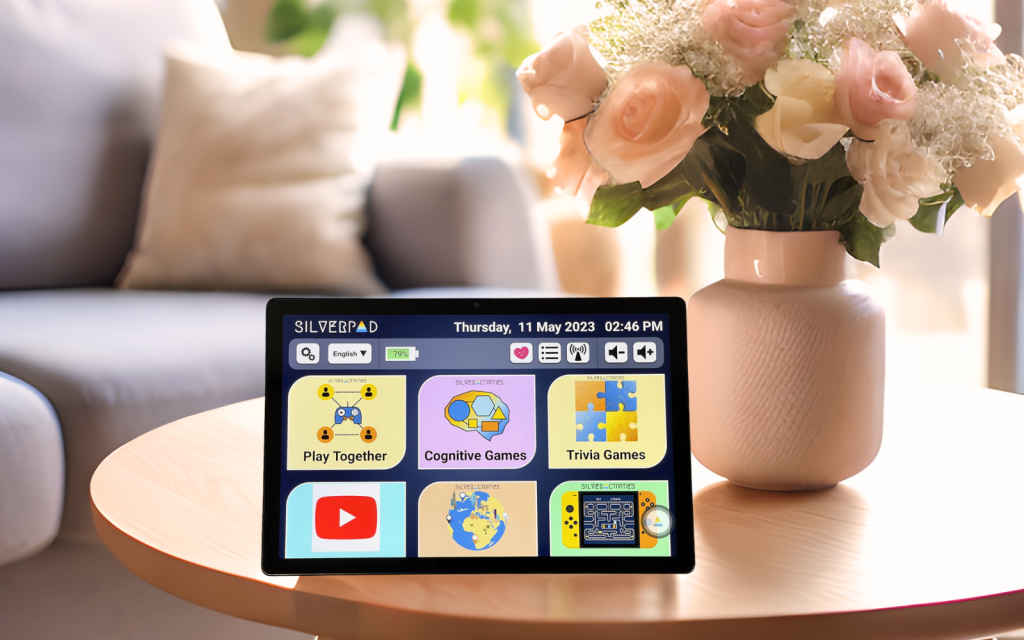 SilverPad is a senior-friendly tablet designed to empower older individuals in the digital age. With multilingual support, its user-friendly interface features big icons and text for easy navigation to serve as a gentle introduction for seniors who may be apprehensive about using technology. Used by numerous senior care organizations, SilverPad offers an array of cognitive games and activities that not only entertain but also stimulate the mind.