Since April 2019, the Singapore Civil Defence Force (SCDF) stopped conveying non-emergency cases to hospitals. According to SCDF, about 10% out of the 995 calls (with an average of 50 calls daily) made each year are non-emergencies. They have advised that people with non-emergency cases should seek treatment from their family doctor or a general practitioner at nearby clinics.
In case there is a non-emergency situation where an ambulance is needed, they advised that you dial the number 1777 (this is a 24-hour non-emergency ambulance service hotline), and you'll get a response from a trained call agent who will attend to your case.
Note that for every non-emergency service rendered, there is a fee attached to it.
Private Medical Transport Services
There are private ambulances and transport services dedicated to serving non-emergency cases and providing other specialized services. These private medical transport services sometimes also work for certain hospitals that need to move patients under non-emergency circumstances.
Below are few private companies that offer Non-Emergency Medical Transport (NEMT);
Note that the prices are that of February 2020 and are subject to change;
Their services include 1-way non-emergency, 1-way emergency to A&E, 2-way non-emergency, regular hospital trips, psychiatric, airport and ferry terminal cases, use of oxygen or structure apparatus, and doctor/nurse accompaniment. Prices for these services range from $10 – $400.
Email: mail@ambulanceservice.com.sg
24H Hotline: (65) 6281 8111
General Line: (65) 6281 3132
First ambulance was among the first few private ambulance providers to be accredited by the Ministry of Healthcare (MOH). Some of their services and charges are as follows:
● 1-way non-emergency to A&E —– price range from $75 – $140
● 2-way medical appointment —–$90 – $160
● Regular trip —– $80 – $100 /2-way
● Medical escort —– $30 per hour
Lentor Ambulance is one of the largest pre-hospital ambulance service providers in Singapore. They have been in the Emergency Ambulance Service for the last 5 years.
Their services are as follows:
● 1-way transfers, which include discharge from the hospital, direct admission to hospital, A&E cases.
● 2-way transfers, which include dialysis treatments, specialist outpatient clinic / medical appointment.
● Institution Booking
SilverFleet is a dedicated provider of wheelchair-friendly transport service for the elderly. This service offers $45/trip for first-time clients only.
Red Lion provides emergency and non-emergency transportation of patients to hospitals, physicians, nursing homes, and outpatient centers, as well as medical support to mass participation events, including sports, festivals, concerts, and more.
Rather than placing a call, patients can now tap on Speedoc app for on-demand private ambulance services in non-emergency cases. The service which is available in 24hours comes in the wake of the Singapore Civil Defence Force's (SCDF) decision to stop taking non-emergency cases to hospitals so that resources are freed up for life-threatening cases. Compared to dialing 1777 and waiting for as long as 2hours for an ambulance, the speedoc app waiting time can be as short as 30 minutes.
The cost of a one-way trip ranges from $120 to $170, depending on the location, time of day, and demand.
Homage is a holistic healthcare service provider that has served thousands of families islandwide. Private ambulances are available on-demand, arriving as quickly as 30 minutes, for a non-life-threatening condition. Those with limited mobility will be able to access medical care and travel safely in a stretcher accompanied by trained medical professionals.
Medical escort and transport services are also available upon request for care recipients who prefer to have the company of a trained caregiver or nurse throughout the trip.
Rates start from $20 hourly for a medical escort and $140 per trip (one-way) for non-emergency ambulance services. For private ambulance hire, call 6100 0055 or visit Homage.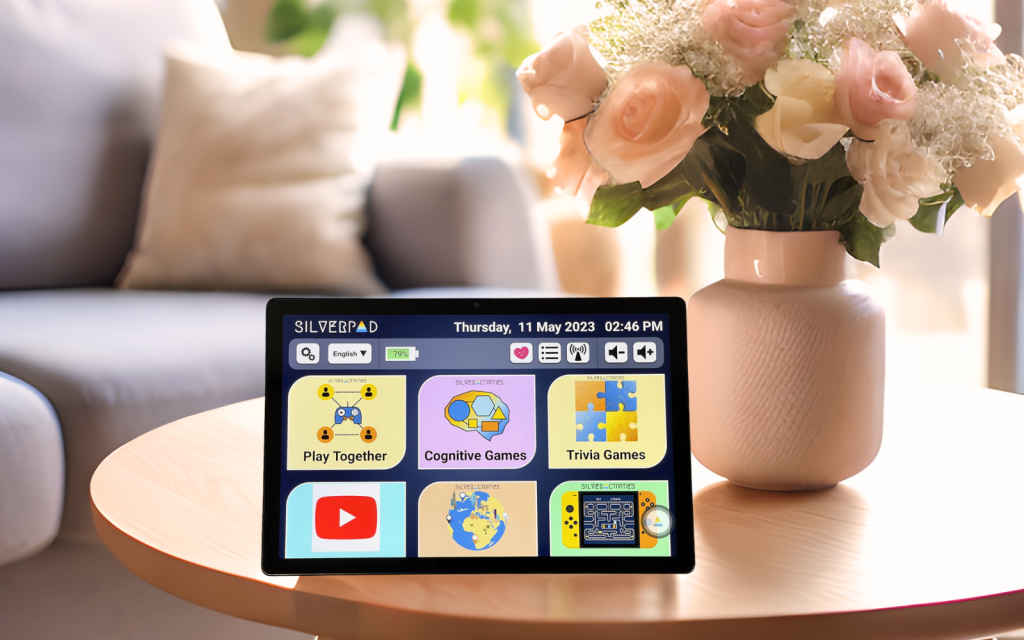 SilverPad is a senior-friendly tablet designed to empower older individuals in the digital age. With multilingual support, its user-friendly interface features big icons and text for easy navigation to serve as a gentle introduction for seniors who may be apprehensive about using technology. Used by numerous senior care organizations, SilverPad offers an array of cognitive games and activities that not only entertain but also stimulate the mind.